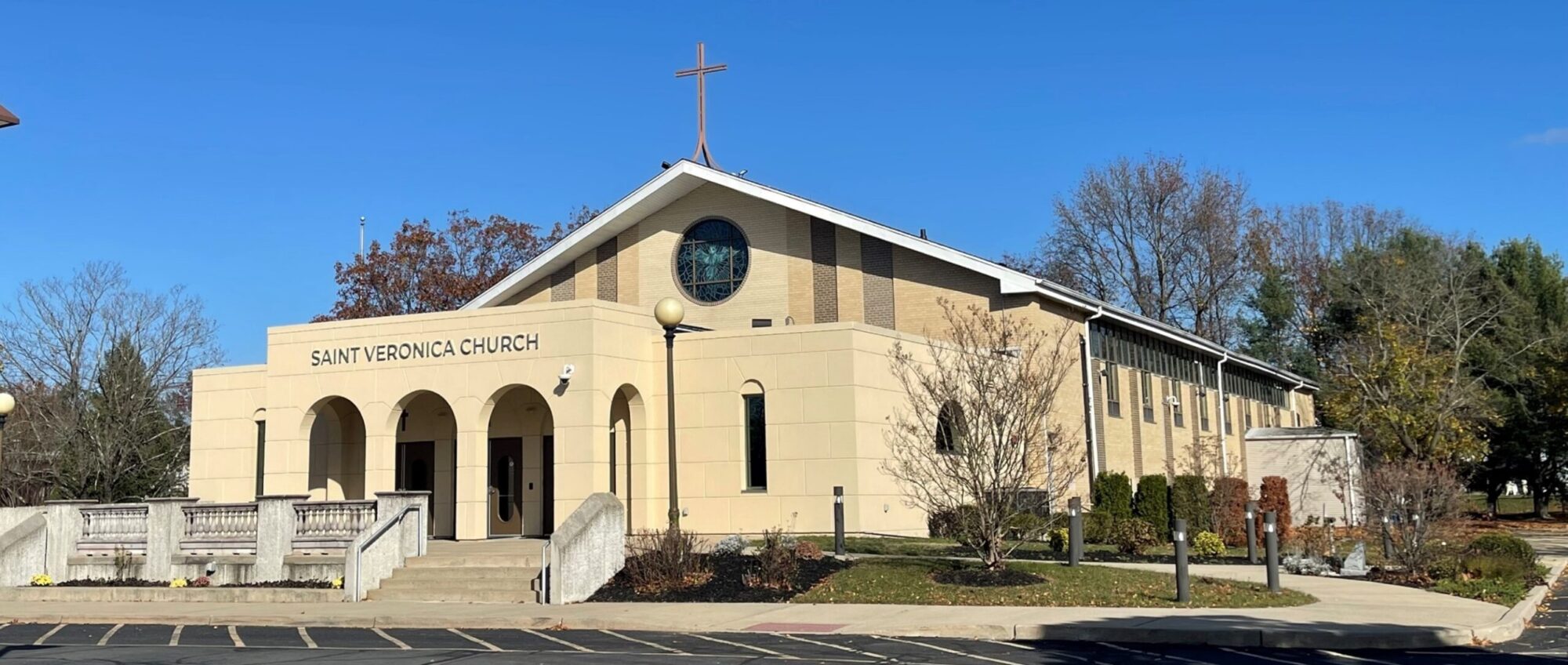 Welcome to our Parish Website
May we be of help to you, as you check our website for information about our parish community.  The data and information that you will find are not indicative of who or what we are.  Technology may have lessened somehow our physical interactions, but has added a different layer to our personal relationships, as followers of Jesus, our Savior.
So, come and visit our Church here in Howell, New Jersey.  Join us for our liturgies and sacraments.  Say a prayer to St. Veronica, our Patroness.  And, express your faith and your love as you use your time, develop your talent, and generously share from your resources.
God loves you always and in all ways! Rev. Peter James R. Alindogan
---
— Daily Lenten Masses in the Church —
Monday – Friday at 7:30AM & 12:00PM
Saturday 8:00AM
— 2023 Lenten Activities at St. Veronica —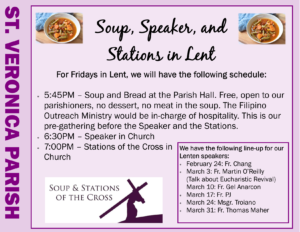 Join us this Friday, March 24th, at 5:45PM for our next Soup, Speaker, and Stations series. Enjoy fellowship with other parishioners while enjoying delicious soup. Then stay and listen to this week's speaker,
Msgr. Troiano. Finish the evening with the devotion of Stations of the Cross commemorating Jesus' last day on Earth as a man.  Please come! All are invited!
Every Friday during Lent
Soup, Speaker & Stations
For Fridays in Lent, we have the following schedule:
* 5:45PM – Soup and Bread at the Parish Hall. Free, open to our parishioners, no dessert, no meat in the soup. The Filipino
Outreach Ministry would be in-charge of hospitality. This is our
pre-gathering before the Speaker and the Stations.
* 6:00PM–7:30PM Confession in the Church. Open to anyone who would like Reconciliation.
* 6:30PM – Speaker in Church
* 7:00PM – Stations of the Cross in Church
 We have the following line-up for our Lenten speakers:
* March 24: Msgr. Troiano
* March 31: Fr. Thomas Maher
---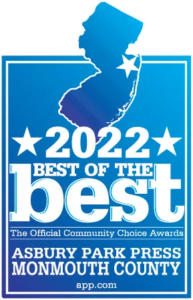 2022 winner of the Best of the Best of Monmouth County
from the Asbury Park Press
We are happy to announce that St. Veronica has been voted best place to worship in the 2022 Best of the Best of Monmouth County from the Asbury Park Press. We are blessed with amazing priests, faithful and loving parishioners, and dedicated volunteers and staff. All glory to God!
---
Please update your contact Information:
So that we can better inform you, please help us update the St. Veronica Parish Data Base by updating your contact information using the UPDATE FORM. Update forms are also available in the Narthex.
---
Volunteers: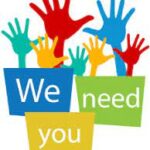 Stewardship is a way of life. It means that we recognize all we are and all we have is a gift from God. Volunteers are important to St. Veronica Parish! Volunteers share their precious time and God given talents, gifts, skills and abilities to participate in and support the life of the parish. If you would like to volunteer, please fill out a volunteer form.
---
Sponsorship opportunities: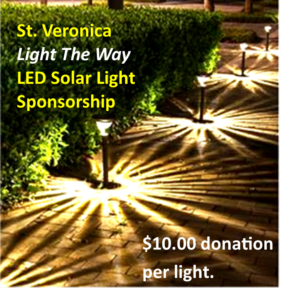 68 lights sponsored!
Help us "Light the Way" on the St Veronica's Parish campus by bringing light to the paths and sidewalks of our buildings.
You can sponsor a LED solar light for $10 donation per light. Lights can be sponsored in memory of, in honor of , or for a special intention.
To sponsor, please complete the Online form or visit the parish office.
---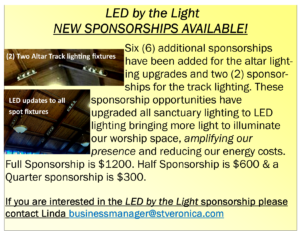 NEW SPONSORSHIPS AVAILABLE!
Six (6) additional sponsorships have been added for the altar lighting upgrades and two (2) sponsorships for the track lighting. These sponsorship
opportunities have upgraded all sanctuary lighting to LED lighting bringing more light to illuminate our worship space, amplifying our presence and reducing our energy costs.
Full Sponsorship is $1200. Half Sponsorship is $600, & a Quarter Sponsorship is $300.If you are interested in the LED by the Light sponsorship please contact our business manager, Linda Dickinson, at Businessmanager@stveronica.com
---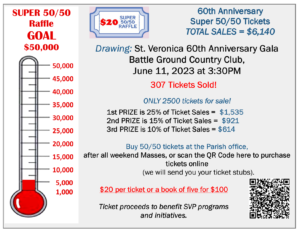 SUPER 50/50 TICKETS NOW AVAILABLE
AFTER ALL MASSES!
TOTAL SALES = $6,140
307 Tickets Sold!
ONLY 2500 tickets for sale!
1st PRIZE is 25% of Ticket Sales =  $1,535
2nd PRIZE is 15% of Ticket Sales =  $921
3rd PRIZE is 10% of Ticket Sales = $614
Super 50/50 tickets are now available for sale
on-line, in the Parish Office and after all weekend Masses!
---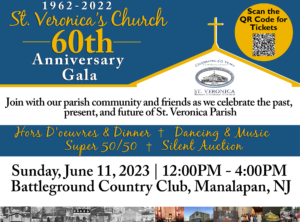 60th Anniversary Gala
The St. Veronica 60th Anniversary Gala is set for June 11, 2023 at the Battleground Country Club from 12:00 PM to 4:00 PM. Tickets are $100 pp. Please purchase online or at the parish office.
---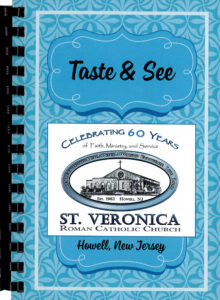 Get Cooking This Winter!
Recipe books will be for sale in the Narthex on Dec. 17 & 18 and are available for purchase and pick up in the Parish Office. Makes a great Christmas gift at only $20.00 each. Click here to purchase your 60th Anniversary Cookbook.
---
St. Veronica Parish Mission Statement
We, the Parish Family of Saint Veronica, are called through Baptism to proclaim the Gospel of Jesus Christ in faith, hope and love.
We strive toward deeper conversion by active participation in the
Eucharist and by being good stewards to one another.
Through vibrant evangelization, a welcoming community and Spirit-led service we continually challenge ourselves to bear the face of Jesus like our patroness did as we journey together in unity, to the glory and honor of God.