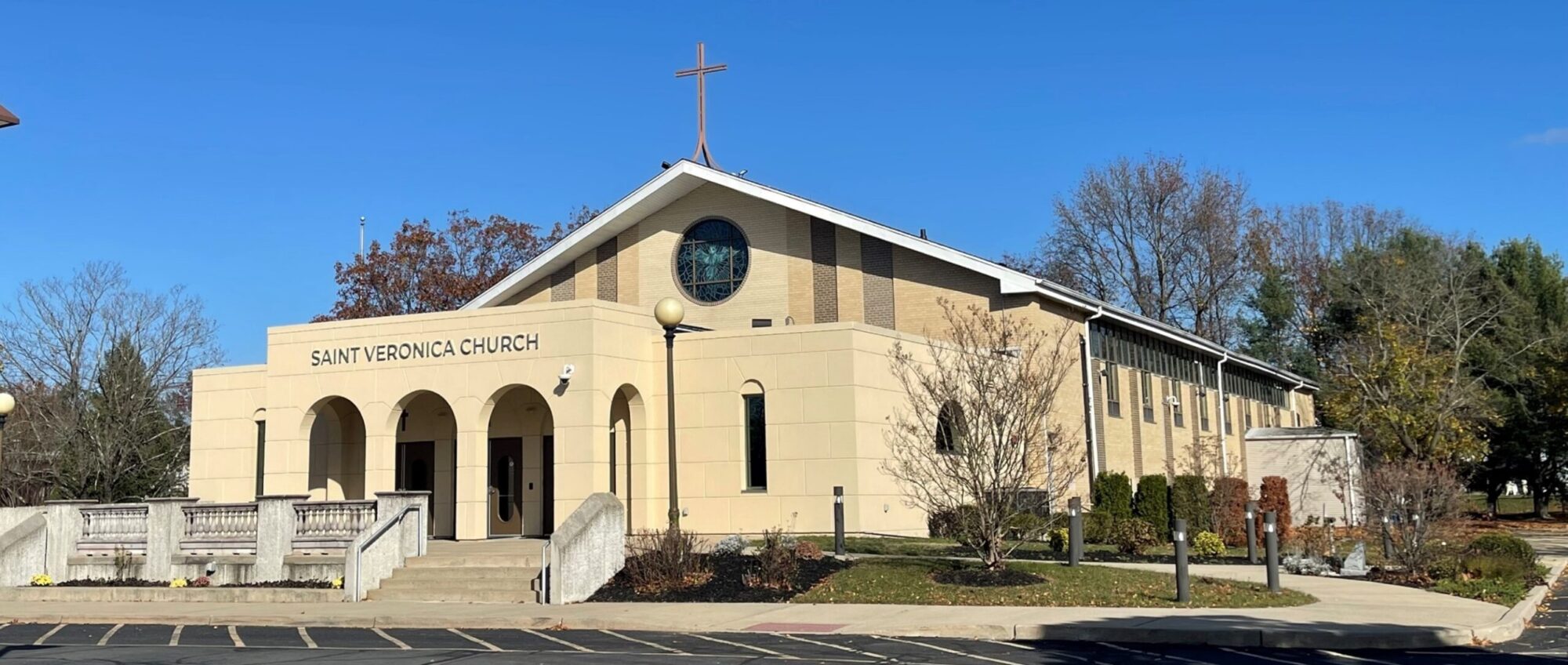 Welcome to our Parish Website
May we be of help to you, as you check our website for information about our parish community.  The data and information that you will find are not indicative of who or what we are.  Technology may have lessened somehow our physical interactions, but has added a different layer to our personal relationships, as followers of Jesus, our Savior.
So, come and visit our Church here in Howell, New Jersey.  Join us for our liturgies and sacraments.  Say a prayer to St. Veronica, our Patroness.  And, express your faith and your love as you use your time, develop your talent, and generously share from your resources.
God loves you always and in all ways! Rev. Peter James R. Alindogan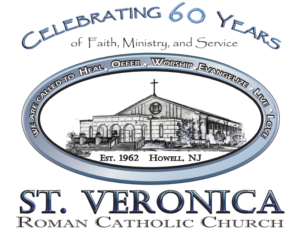 CONGRATULATIONS!!  2022 Winners of The Best of the Best of Monmouth County from the Asbury Park Press.
St. Veronica Roman Catholic Church, Howell was voted the best place of worship in Monmouth County!
Contact Update Form: 
So that we can better inform you, please help us update the St. Veronica Parish Data Base by updating your contact information using the UPDATE FORM. Update forms are also available in the Narthex.
---
Volunteers: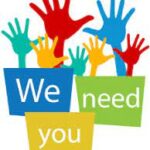 Stewardship is a way of life. It means that we recognize all we are and all we have is a gift from God. Volunteers are important to St. Veronica Parish! Volunteers share their precious time and God given talents, gifts, skills and abilities to participate in and support the life of the parish. If you would like to volunteer, please fill out a volunteer form.
---
Sponsorship opportunities: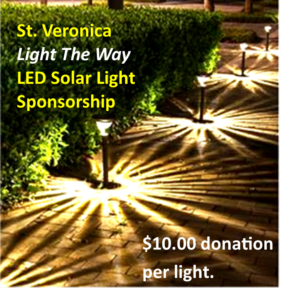 Help us "Light the Way" on the St Veronica's Parish campus by bringing light to the paths and sidewalks of our buildings.
You can sponsor a LED solar light for $10 donation per light. Lights can be sponsored in memory of, in honor of , or for a special intention.
To sponsor, please complete the Online form or visit the parish office.
---

Recipe books are available for purchase and pick up in the Parish Office
Recipe Books are $20.00 each. Click on the link to purchase your 60th Anniversary Recipe Book
---
Upcoming Events:
St. Veronica's 60th Anniversary Edition of the PARISH DIRECTORY  – Please see note below in Dec upcoming events for more information on how to schedule your photo appointment.
---
Sunday – Wednesday, Nov.  27 , 28, 29 and 30 – Advent Parish Mission. 7:00PM in the Church. Retreat facilitated by our Deacons and Deacon Candidate. Talk, Scripture Reading, Reflection, Exposition & Benediction of the Blessed Sacrament, and Sacrament of Penance Flyer
---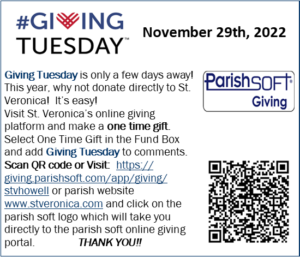 Tuesday, Nov. 29 – Giving Tuesday – Please consider St. Veronica on this upcoming Giving Tuesday. It's easy! Click on the picture to make a donation.
---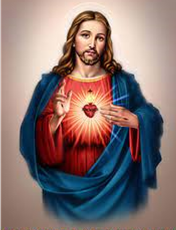 Friday, Dec. 2 – First Friday Masses for the Sacred Heart of Jesus a 12:00PM in the Church.
---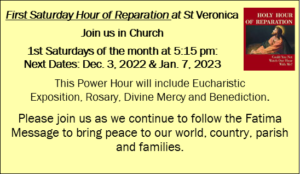 Saturday, Dec. 3 – First Saturday Hour of Reparation – Contact Chris Barnes: cbmb42096@gmail.com
---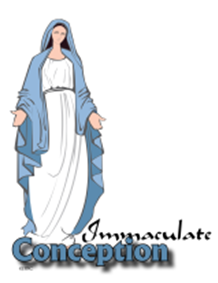 Thursday, Dec. 8 – Solemnity of the Immaculate Conception of the Blessed Virgin Mary
Mass Schedule: 7:30AM, 12:00PM & 7:00PM
There will be NO Vigil Mass on Dec 7.
---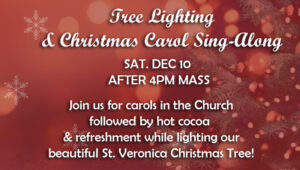 NEW DATE!! Saturday, Dec. 10  – St. Veronica Annual Christmas Tree Lighting – Come and celebrate the first Christmas having our priests in their new home as well as  prayer, Christmas caroling, and light refreshments in Parish Hall.
---
Sunday, Dec. 18 – Christmas around the world – Join us for music, food, and drinks from around the globe as we get ready to celebrate the birth of Jesus.
---
Tuesday – Thursday, Dec. 27, 28 and 29 –St. Veronica's 60th Anniversary Edition of the PARISH DIRECTORY 
Sit for a professional photo for the parish directory and receive a free 8×10, a parish directory and the option to purchase additional photos. You can schedule your own photography appointment by visiting www.ucdir.com     Church code is nj162    Password is photos
Please call the parish office for any scheduling questions or email businessmanager@stveronica.com