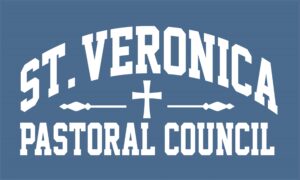 The Parish Pastoral Council meets regularly and as needed.
Members:  Pat Bigg, Mark Bonjavanni, Denise Daye, Chris Fenimore, Gail Kohan, Ed Monti, Bob Morris, Marietta Racancoj, Phil Thompson.
Ex officio members: 
Fr. PJ Alindogan and Fr. John Chang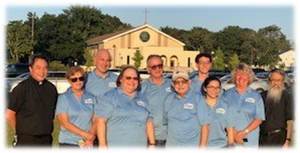 What is the Parish Pastoral Council?  The Parish Pastoral Council serves as a way for the Church to gather several perspectives from members of the community about topics regarding the Parish.  In this case, the Parish Pastoral Council is administering a community event with the purpose of defining an all-encompassing vision for our future as well as creating a unifying mission statement for our Church.
More information can be found by contacting the parish office: Phone:  732-363-4200 or by emailing  office@stveronica.com
You can also reach out to our fellow parishioners and current members of the Parish Pastoral Council pictured above.
Everyone is needed!  All are welcome!
Thoughts were garnered from many members of the Parish as possible via a Parish Assembly which was held on Tuesday, Oct. 12, 2021.
The parishioners who came to the Parish Assembly discussed the future of our Parish, what parishioners would like to see more of, and how we can grow and be forward looking with such important questions as: If Jesus were here today, what words would he give us to direct our future? and What do I as a member expect of my parish?
UPDATE on Next Parish Assembly
The Parish Assembly was held on October 4, 2022 at 7:00PM.
See the article below for more details.
We will notify you in the bulletin of the date of the 2023 parish assembly.
We are looking forward to seeing you soon.
October 12, 2021 Parish Assembly Details:
We asked for suggestions from the Parish Assembly participants on October 12th and the common theme of the majority of the parishioners' suggestions was Faith Formation and Bible Study. To date, based on your input the parish has restored Perpetual Adoration for registered Adorers. We need more Adorers, please consider signing up for an hour. In addition to the Perpetual Adoration Chapel, the parish also has prayer chains, the Sacrament of Confession on Saturdays, by request and at our Cohort parishes, we have welcoming committees at the door to the Church on Sundays, the Food Pantry is available at the Rectory, Live Steam Masses, Legion of Mary, Music Ministry for kids and adults, Knights of Columbus, Respect Life, Life Teen and Catholic Charities. There is more to come. But we need your help to achieve these goals.
Discussions are underway to explore Faith Formation and Bible Study. We need volunteers who are willing to commit some time and talent, especially in the areas you are most interested in. We need YOU! Jesus Needs YOU! The parish Needs YOU! The Pastoral Council is exploring the various groups and activities that were requested such as, Retreats and Missions, Sisters in the Spirit, Teen Underground, Catholic Charismatic, Youth Ministry, Basic Christian Maturity and Bible Study. But we need your help and support to get these groups and other groups up and running. This is your written invitation.
If you have a particular interest in starting a group or assisting with a group that was suggested please reach out to the Pastoral Council. May God bless your spring with warm breezes, spring showers and April flowers.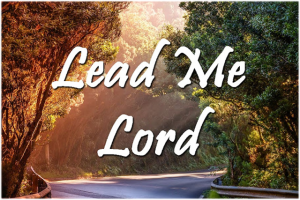 Bulletin Communications from the Pastoral Council:
October 4, 2022 St. Veronica's Pastoral Parish Council 2022 Report
October 2, 2022 Parish Assembly Invitation to attend Oct 4, 2022 in the Gymnasium.
October 3, 2021 Different Forms of Leadership in a Parish Community
September 26, 2021 Parish Stewardship
September 19, 2021 The Importance of the Word in Parish Life
September 12, 2021 Parish Evangelization
September 5, 2021 Worship and Our Parish
August 29, 2021 Community and Service in Parish Life
August 22, 2021 Parish Assembly