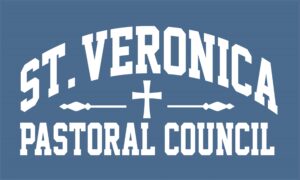 The Parish Pastoral Council meets regularly and as needed.
Members:  Pat Bigg, Mark Bonjavanni, Denise Daye, Chris Fenimore, Gail Kohan, Ed Monti, Bob Morris, Marietta Racancoj, Phil Thompson.
Ex officio members: 
Fr. PJ Alindogan and Fr. John Chang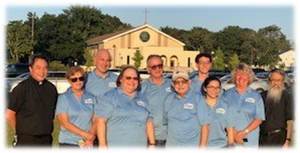 What is the Parish Pastoral Council?  The Parish Pastoral Council serves as a way for the Church to gather several perspectives from members of the community about topics regarding the Parish.  In this case, the Parish Pastoral Council is administering a community event with the purpose of defining an all-encompassing vision for our future as well as creating a unifying mission statement for our Church.
More information can be found by contacting the parish office: Phone:  732-363-4200 or by emailing  office@stveronica.com
You can also reach out to our fellow parishioners and current members of the Parish Pastoral Council pictured above.
Everyone is needed!  All are welcome!
Thoughts were garnered from many members of the Parish as possible via a Parish Assembly which was held on Tuesday, Oct. 12, 2021.
The parishioners who came to the Parish Assembly discussed the future of our Parish, what parishioners would like to see more of, and how we can grow and be forward looking with such important questions as: If Jesus were here today, what words would he give us to direct our future? and What do I as a member expect of my parish?
UPDATE on Next Parish Assembly
Your opinions count!  Everyone is encouraged to invite friends, family and neighbors to the next Parish Assembly in October 2022. More information will follow in the bulletin and on the parish website.
We are looking forward to seeing you soon.
We asked for suggestions from the Parish Assembly participants on October 12th and the common theme of the majority of the parishioners' suggestions was Faith Formation and Bible Study. To date, based on your input the parish has restored Perpetual Adoration for registered Adorers. We need more Adorers, please consider signing up for an hour. In addition to the Perpetual Adoration Chapel, the parish also has prayer chains, the Sacrament of Confession on Saturdays, by request and at our Cohort parishes, we have welcoming committees at the door to the Church on Sundays, the Food Pantry is available at the Rectory, Live Steam Masses, Legion of Mary, Music Ministry for kids and adults, Knights of Columbus, Respect Life, Life Teen and Catholic Charities. There is more to come. But we need your help to achieve these goals.
Discussions are underway to explore Faith Formation and Bible Study. We need volunteers who are willing to commit some time and talent, especially in the areas you are most interested in. We need YOU! Jesus Needs YOU! The parish Needs YOU! The Pastoral Council is exploring the various groups and activities that were requested such as, Retreats and Missions, Sisters in the Spirit, Teen Underground, Catholic Charismatic, Youth Ministry, Basic Christian Maturity and Bible Study. But we need your help and support to get these groups and other groups up and running. This is your written invitation.
If you have a particular interest in starting a group or assisting with a group that was suggested please reach out to the Pastoral Council. May God bless your spring with warm breezes, spring showers and April flowers.
Bulletin Communications from the Pastoral Council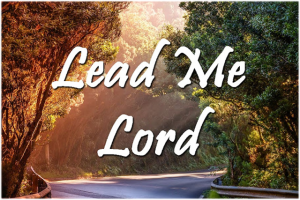 Different Forms of Leadership in a Parish Community
     Bulletin Article 10/3/21
The word "leadership" has several meanings.  According to Merriam-Webster, some of those definitions are (in no particular order): (1) "a position as a leader of a group, organization, etc.," (2) "the act or an instance of leading," (3) "capacity to lead," and (4) "the power or ability to lead other people."
We can look at the word "leadership" in solely its traditional, organizational, management sense:  "a position as a leader of a group, organization, etc."  In that sense, the "leadership in a parish community" can be seen as consisting of the pastor, the trustees, the Parish Pastoral Council, the Parish Finance Council, the Liturgy Committee (consisting of the coordinators of the various liturgical ministries), the Social Concerns Committee (consisting of the coordinators of the various social-outreach ministries of our parish), and others in so-called "positions of leadership."
            Leadership, however, can also be viewed in a less literal sense, i.e., in the intangible concepts of "the act or an instance of leading," a "capacity to lead," and "the power or ability to lead other people."
In the context of a parish, leadership may be viewed in both senses, i.e., not only in the sense of visible leaders, including heads of ministries, committees, and organizations.  At baptism, each of us received a share in the priestly, prophetic and kingly ministry of Jesus.  For each of the baptized, that share is manifested in the various gifts given to each of us by God.
Every parishioner therefore is commissioned at baptism to serve God by using our God-given gifts for the good of others, including the other members of our parish, which is our spiritual family.  All of us, however, do not receive the same gifts.  There is a book entitled "What Color Is Your Parachute?" which tries to help the reader in identifying their particular aptitudes, abilities, skills, and talents, in order to look at various, possible occupations for which they might be suited.  As Christians, we call that process "discernment."  With all the tools that the Church offers us – including prayer, the sacraments, and the help of others – we try to discern (identify) what God wants me to do with the gifts He has given me.
Based on that discernment, each of us can exercise "leadership" in our parish by (A) serving as a "visible" leader (for example, as the head of a ministry, committee, or organization), or (B) serving as a "less-visible" leader in other ways, including (but not limited to) as a participating member of a ministry, committee, or organization, or as a general volunteer in a parish activity(ies).  We say that we lead by example.  We also say that actions speak louder than words.  In various settings, a parishioner may exercise leadership in a particular "act or an instance of leading," which might be with or without spoken words.  It may also take the form of encouraging or defending or fostering or supporting or offering a possible revision to a particular idea, suggestion, initiative, etc.
Our parish needs your help, as we continue to strive to be good and faithful servants of the Gospel – the "good news" of our Risen Lord and Savior, Jesus Christ.

                  Parish Stewardship 
           Bulletin Article 9/26/21
                                 Stewardship is one of the Seven Essential Elements of Parish life.
We the baptized, as part of stewardship are called to participate in our parish by active involvement in its ongoing life. Ideally, we should seek to be good stewards of God's blessings all the time and not just when we volunteer. Each day allows us to be a good steward. There are many ways we practice this in our homes, when on the phone, emailing, texting, talking to others, at the store, at work or recreation and dining, to identify a few examples.
Time is a very special gift. We may say we don't have enough time in the day, we're too busy. The key question is: What do we make time for?
God's question is: How do we choose to use our time? Is our time squandered watching senseless TV shows? excessive recreation? What time do we use to foster our relationship with God? Do we volunteer some time in a ministry that blesses others?
Talents and abilities are given to us primarily to bless others. Many of our parishioners are living this 'Word' and are a blessing to our Parish and the greater community. However, many others are perhaps sitting on their talents and not using them. Instead, their talents are buried!
We share our gift of Treasure in our weekly sacrificial giving in the Sunday Offertory. These regular and faithful contributions fund the Parish of St. Veronica's mission and budget. This sacrificial giving weekly is simply making the most of our gifts and resources in which the return has already been given to us in the unconditional love of Jesus Christ!
Recently, our Business Manager gave us an accounting in the Sunday bulletin of the more current stewardship activities of our Parish. We have an active Finance Council that meets regularly and advises our Pastor on how our buildings and grounds are maintained and continually looks to make necessary improvements. Over the past several years, we have seen many improvements: the roof, school improvements, the HVAC system for the Church, to name a few.
The fund raising that was earmarked for the HVAC System showed the good faithful stewardship of the people of St. Veronica. It was a leap of faith to give a few extra dollars a week and now all who attend or visit our Church enjoy a comfortable climate especially in the extremes of summer and winter! Thank you for your good stewardship!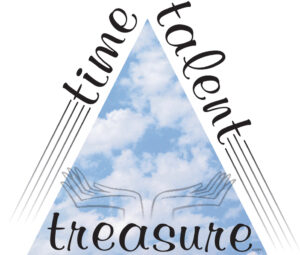 Perhaps we can improve upon offering our time, talents, and treasure. After all, we are building God's kingdom here in Howell where we live and pray and care and play! Maybe each one of us could examine our time, our talents and our treasure and find what we could offer this great community of St. Veronica. Everyone is needed! All are welcome!

The Importance of the Word in Parish Life
 Bulletin Article 9/19/21
Our Faith has been shared since the time of Jesus through The Word. The retelling of the stories in the Old Testament helped us learn about the nature of God, and then the New Testament teaches us about Jesus, and the power and action of the Holy Spirit.  The teaching of The Word is how we continue to grow in our life in a Christian Community. The Word is the tool that we use to strengthen our Relationship with the three Persons of God.
Historically, the means of handing on the faith has been called catechesis; the effort to help man believe that Jesus is the Son of God, and how we can have life in that belief.  The proclamation of the Gospel and the celebration of the sacraments are crucial parts of how we live in the Catholic faith. The Word teaches us how we can worship.
Understanding the reality that many of us do not take the time to read the Bible as often as we can, there are a few ways that we are taught the word. Preparation for the sacraments (RCIA, marriage, First Communion, etc.) are just a few. One of the more important ones, that we should be receiving at least weekly, is through Sunday homilies.  The Priest or Deacon, after the readings, helps interpret what we have heard and how it applies to our daily lives. The parish leaders have had the training and expertise to dissect what we have heard, and how to apply the teachings to our activities when we leave Mass.
There are other ways that we, as a Parish, help in sharing the Word. Adequate funds are needed to carry out the parish mission (staff, building upkeep). Support of Catholic Education in the schools. Marriage preparation, retreats, and efforts to reach out to both the active and inactive portions of our parish community. Assistance with teaching CCD to our youth.
As a Parish Community, the efforts currently underway and being planned will be an excellent time for us to look at not just the Word, but all the other Essential Elements, and join in with the exploration of how we can apply these in our Parish, and our daily lives.

Parish Evangelization 
     Bulletin Article 9/12/21
Evangelization is a term that is often used by Christians to convert the world to Jesus Christ. By the nature of the baptismal call, each Christian is called to proclaim the Good News of Jesus Christ to one another and to those who have not yet heard or understood the Words of Christ found in the Gospels.
It is essential for Christians to be firmly rooted in the faith themselves first before they can spread the Good News of Jesus Christ to the world.  Therefore, a parish must give top priority to the evangelization of its members, and then it can begin to reach out to the world.  Once the faith of parishioners has been fortified, their emblazoned faith will spread to the surrounding community and beyond.
Some ideas parishes have used to evangelize include:
Mission during Lent or yearly parish retreat
Renowned Catholic speaker visit the parish about a particular topic
Have an annual or biannual lecture series
Providing a subscription for parishioners to FORMED
Having a book rack with Lighthouse Media materials available
Having a parish library for parishioners to have access to books about the faith, saints, Church, etc.
Provide spiritual bouquets to the sick and elderly members of the parish
Conduct prayers/support groups for: youth, young adults, bereavement, divorced, etc.
Parish groups should meet on a day and time that would be conducive to everyone
Have doctors, nurses, psychologists, and other parishioners who are medical professionals conduct clinics and talks about various health topics
Participate in pro-life rallies and walks
Homilies should be used to educate parishioners about Catholic teachings about abortion, the sanctity of marriage and family life, the death penalty, etc.
Provide parishioners with bulletin inserts that explain the faith and Catholic Church teachings
Encourage parishioners to donate to the parish food pantry and invite the youth to assist in collecting, organizing, and delivering food
Encouraging young people to adore the Blessed Sacrament by providing them with music and prayer experiences that appeal to them
Participate in ecumenical prayer services and activities

                                                                               Worship and Our Parish
                                                            Bulletin Article 9/5/21
"Worship allows one to realize that Faith is not simply a set of doctrines, but a relationship with a living person, Jesus Christ" ~ Pope Francis
Worship is giving honor to God by various acts. The word liturgy comes from a Greek term meaning public work or work done on behalf of the people. The liturgies of the church help us to give glory to God individually and communally, avail us of grace through the sacraments, and express our response to God's call to discipleship. Every liturgical celebration is an action of Christ, our redeemer and high priest, as He continues the work of our redemption in, with, and through His Church. Thus, this "work of Jesus Christ," the perfect glorification of God and sanctification of men, is the true content of the liturgy.
Personal and communal prayer are central to the building up of the Body of Christ. Our worship as a community is an expression of our prayerfulness. In the celebration of the Eucharist and then other sacramental and liturgical celebrations, we gather together to proclaim our faith. In doing so we are carrying out the mission of evangelization by witnessing the Good News of Jesus Christ to one another and to all. Worship gives expression to the faith of our parish community and our degree of commitment to furthering the kingdom of God.
St. Veronica's Parish Pastoral Council has been working in cooperation with Fr. PJ and Fr. Chang to review elements that are essential to nurturing and sustaining parish life. Worship is one of those elements. We must focus on worship because if we lose our sense of worship, we lose our direction in the Christian life, which is a journey towards the Lord. The sacraments are signs and instruments by which the Holy Spirit spreads grace throughout the Body of Christ. Our priests and deacons, in conjunction with our faith formation programs, strive to make the sacraments readily available to our parish family and ensure that they are faithfully received and celebrated.
Since the Eucharist is a priority in the life of the parish and should be celebrated with full and active participation, we are grateful for the parishioners who serve in liturgical roles and hope more will choose to serve.  Our goal is to provide our ministries with the necessary training and support so that they can be effective in their ministry.
The worship environment should enhance our worship, so we have already begun to address our worship space. The peaceful blue color brightens our church, while complementing the beautiful stained-glass windows which depict the seven days of Creation and the seven Sacraments. Missals are once again available to allow more active participation in the Mass as we focus our hearts, minds, and voices on God. Music is another important element of worship, so we are actively seeking parishioners of all ages to join our choirs. Whether you are in the choir or in the pews, we hope you will lift your voice in praise to God.

                 Community and Service in Parish Life
                                                                                  Bulletin Article 8/29/21
Community and Service both express the heart of a parish. They are mutually essential to the celebration and growth of our parishioners as we work with, and support one another.
Firstly, Community is the basis and outgrowth of the pastoral mission to strengthen and promote growth here at St. Veronica Parish. In community activities, we strive to maintain a good spirit while working alongside each other. The prayers and activities from this element are outwardly directed to spread the Good Will of Jesus through us. Past projects include the Backpack and School Supplies Collection, Winter Coat Drive, Christmas Gift Giving, and food drives. There are many others including those being done by students of Mother Seton Academy, the Knights of Columbus, and the Boy Scouts of Troop 300. "Let us not become weary in doing good, for at the proper time we will reap a harvest if we do not give up." – Galatians 6:9
Service intertwines with the Community element. In addition, it addresses our call to change social conditions that cause the needs of the people. Examples here are welcoming with open arms the migrants and strangers in our midst, accommodating persons with special needs, assisting the elderly, sick, homebound, or isolated. We strive to reach those in need at every stage of life.  Parish members may become politically active by voting in local and national elections to effect change. They may also become involved in policymaking at all levels of government. All are welcome to share their time and talent in these areas. "Each of you should use whatever gift you have received to serve others, faithfully administering God's grace in its various forms." – 1 Peter 4:10
These two elements of Community and Service are meant to draw us together here at Saint Veronica Parish and to spread the Love of Jesus. In the future, the Parish Pastoral Council hopes that we will work with other parishes, other churches, and faith organizations in the Howell community.
Jesus' own mission was described by the Church as community outreach and service. Let's assist the organizations that are already here at St. Veronica's and help create additional programs to support the needs of our parish today.