Mission Statement
The Religious Education Program at St. Veronica Parish seeks to instill in students from Kindergarten to Eighth Grade a deep love for Jesus Christ and the Catholic Church.  Our goal is, that through prayer, Scripture, faith education, service to others, and the celebration of the Sacraments, students will become alive in their Catholic faith and desire to serve God and His Church.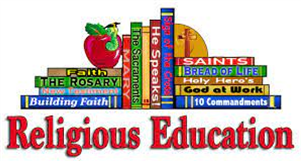 Join us
 November 21, 2021
Other Information
The Religious Education program begins each year in October and ends in mid-May.  Students in Grades 3 through 8 are offered the opportunity to receive the Sacrament of Reconciliation throughout the year.
First Sacrament of Reconciliation is celebrated in December of Grade Two, and First Holy Communion in May of Grade Two.  The Sacrament of Confirmation is celebrated in May of Eighth Grade.  Sacraments are preceded by a two-year preparation program.
Registration for the fall begins in May each year.  Registration forms may be obtained by contacting Sr. Ann Elizabeth, C.R.  Please call 732-364-4137 or email sr.ann@stveronica.com.
Office Hours: Monday  10am-8:00pm                                                                                                Tuesday through Thursday 10:00am-6:00pm
Teachers – All applicants must be approved by Fr. PJ & Sr. Ann
Sr. Ann Elizabeth Norton, C.R., Director of Religious Education
Religioused@stveronica.com        732-364-4137