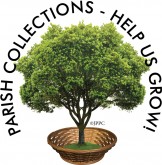 St Veronica counts on the regular use of the envelopes and online giving contributions to pay for the upkeep and maintenance of the church buildings and grounds, to run parish ministries and programs, to help plan for the future needs of the parish and parishioners, to fund outreach initiatives and to help set realistic goals for future planning. Cash placed in the offertory basket is not recordable and St Veronica cannot issue you a Year End Tax Statement for cash donations unless parish envelope system the cash donation is placed in an envelope and marked with the givers name and address.
Two preferred ways give:
parish envelope system
online line giving through ParishSoft Giving
The parish envelope system is an easy and organized way of making your financial contributions to the parish on a regular basis.  Envelopes enables us to record your contributions and issue year-end statements for tax purposes.
St Veronica Parish Online Giving is a safe and convenient way to give electronically without the hassle of writing checks or filling envelopes. St. Veronica Parish  is committed to providing  you with a secure and accessible way to give online. Your online contributions are automatically uploaded into our accounting system.
Online giving Powered by

Ways to set up a new online account :
Scan this QR code with your cell phone camera to create an account, to make a one-time donation or set up reoccurring donations via the Saint Veronica Online Giving Portal.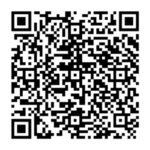 or Text GIVE to the phone # 732-838-9031
Call the parish at 732-363-4200 and we can help you set up your account.
To create an account:
Click on link to online portal (above)
At top of the online giving page click on SIGN IN
At bottom of sign-in page, see create an account.
Complete steps as prompted. Please Set up and process each donation separately
Donations are also accepted  In Memory of  a deceased loved one  or  to commemorate a  Special Occasion.
If you would like to make a larger donation intended for a particular purpose, please contact the Parish Office.
We also gladly accept donations of stocks or bonds.
Please remember the "Church of St. Veronica" in your will or estate plans.
All donations will be gratefully acknowledged and a tax receipt provided.
Annual Catholic Appeal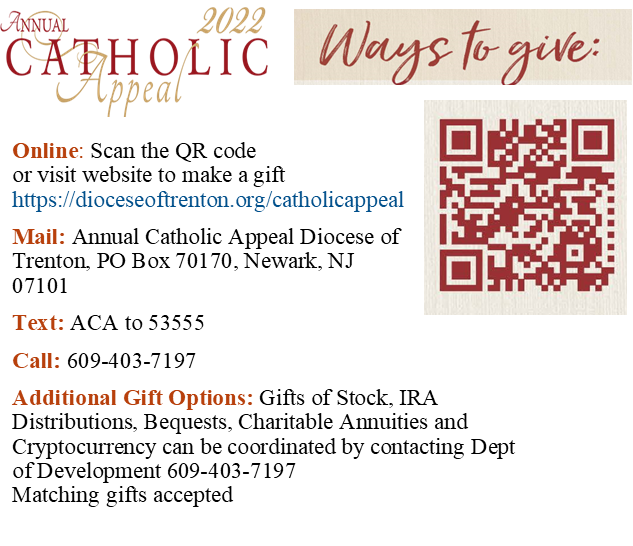 https://dioceseoftrenton.org/catholicappeal