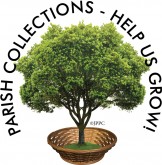 The parish envelope system is an easy and organized way of making your financial contributions to the parish on a regular basis.  This system enables us to record the contributions and issue year-end statements for tax purposes.  Such statements can ONLY be issued to those who use the envelopes.  We count on regular use of the envelopes to pay for the upkeep of the church, to help plan for the needs of the parish and to help set realistic goals.
As an option, we suggest our Electronic Giving system.  For more information, click on the "WeShare" link (below) or contact the WeShare Support by phone or email (below).
https://stveronica.churchgiving.com
WeShare Support is available to assist you with your donation.  The Customer Service Team has been transitioned to their home offices for the safety and wellbeing of WeShare's employees and their families during the pandemic.  They are available to assist you with your questions and/or online-giving needs whenever the need arises.
WeShare Donor Customer Service Phone Number:  800-950-9952 (press #3 and then press #2)
WeShare Customer Service Email:  weshare@4lpi.com
WeShare Donor FAQ:  WeShare Donor Support
Without a weekly offering, our parish faces great uncertainty.  We believe that God will carry us through these dark days, but He still needs us to do our part!  Whether through our prayers or financial support, we need to come together to help our faith community, so that it can continue to do all that it does for us.  Although we are not aware of anyone in our parish with the SARS-CoV-2 coronavirus or the COVID-19 disease, please let us know by contacting the parish office, so we can pray for those people specifically.  Thank you for your continued support and prayers.
Donations are also accepted  In Memory of  a deceased loved one  or  to commemorate a  Special Occasion.
If you would like to make a larger donation intended for a particular purpose, please contact the Parish Office.
We also gladly accept donations of stocks or bonds.
Please remember the "Church of St. Veronica" in your will or estate plans.
All donations will be gratefully acknowledged and a tax receipt provided.
Annual Catholic Appeal